X-rays
Digital X-rays are commonly used to visualise the chest, airways, spine and bones. This is a form of X-ray imaging where digital X-ray sensors are utilised. Advantages include time efficiency and the ability to digitally transfer images.
What to Bring:
If you are not a patient in our facility then please ensure you have a referral from your General Practitioner or Specialist if you need imaging done at WiSE.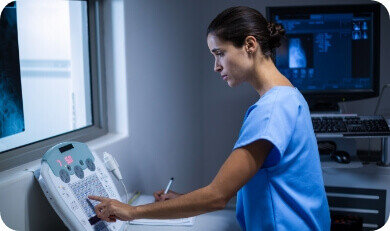 Please advise us:
If you are, or think you may be, pregnant
If you have any metal around the area being examined (e.g.: jewellery, dentures, metal buttons etc)
If you have had any previous injuries or surgery to the area being examined.
Please bring your referral and Medicare Card. You may be required to remove jewellery and clothing that contain zips or metal objects.
This will be dependent on what area you are having X-rayed.
You may be asked to change into a gown. Depending on which area you are having examined, you may be asked to lie on a table, stand or sit.
It's very important that you remain still while your X-ray is taken.
The X-ray will take approximately 15 minutes.
There are no restrictions after having a Digital X-ray.